Stable at 2.4... and...
I cut the insulation to fit snugly around the Celeron's slug and fill the air space between the plates. I reassembled the sandwich and booted the system. This time I was feeling a bit adventurous and decided to attempt to try 2.4 volts. About 5 hours later, after numerous attempts to stress the processor to the point of lock-up, I was convinced that I was stable at this voltage also. Two days later, after much more testing, I attempted to boot at 2.3. Success again. Another day later, after many more attempts to lock this chip up, I tried what a week ago I would have given myself zero chance of attaining, 2.2 volts and 504 MHz.

At 2.2 volts, this Celeron is just as stable as it was at the higher voltages or running at 464 MHz. I tried to drop the voltage one more step, but 2.2 is as low as it will go. At 2.1 it randomly reboots while in windows.
Celeron 300A @ 504 MHz - Temp at Voltage - WinBench99 Suite

| | | | |
| --- | --- | --- | --- |
| Voltage | 2.2 | 2.3 | 2.4 |
| Room Temp | 63.1 | 63.9 | 63.5 |
| CPU Start °F | 38.6 | 38.3 | 38.7 |
| Sink Start °F | 87.8 | 89.4 | 91.2 |
| CPU High °F | 77.2 | 83.5 | 86.4 |
| Sink High °F | 95.2 | 97.2 | 101.8 |
Ready to Install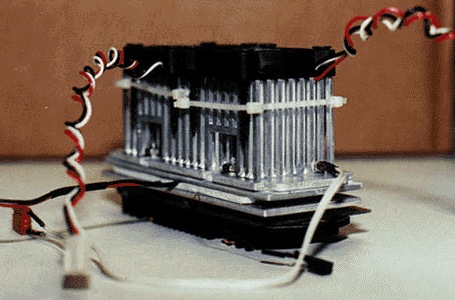 Wires: 2 fans, 2 thermistors and the TEC