Peltiers
I have read much over the past year and a half about peltier elements, how they work, and the pitfalls of using them to cool processors. I won't go into the basics and calculations involved in getting a ThermoElectric Cooler (TEC) to work efficiently, because that work has already been done by people much more knowledgeable on the subject than I am. If you are interested in learning about working with peltier elements, I suggest that you take a look at the following pages.

Tellurex's Introduction to Thermoelectrics
Tellurex's Thermoelectric FAQ
Melcor's Thermoelectric Engineering Handbook

My first idea about using a TEC was to simply attach it in between the CPU and my oversized dual-fan heat sink, power it up and all would be fine. Though I have seen many peltier CPU coolers for sale that were designed this way, my reading told me that this was not the most effective use of the device. However, if I was going to learn how to make a TEC CPU cooler that worked, I had to start somewhere.

Attempt 1
Starting with my Vantech CPU Cooler heat sink, I added the peltier element, Part # 580-0052 from Meci Surplus and centered it between the heat sink and chip. Both sides of the TEC were coated with a very thin layer of thermal compound. The peltier sandwich was held together nuts and bolts with springs added to even the clamping pressure.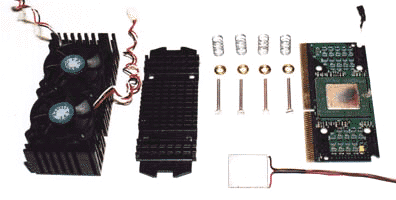 .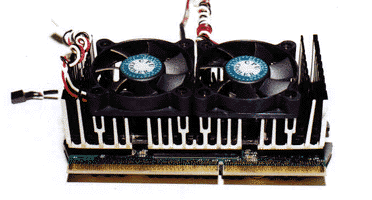 I started testing this sink at 2.1 volts and 464 MHz. I watched the thermometers as the system booted up and was a bit dismayed to see the processor temperature rise into the high 70°F range as the system booted up. This was not much less than using just a heat sink and fan. Once windows booted and Rain kicked in, the processor temp started falling quickly. Within a couple of minutes, the CPU was running at 33°F. This was quite an improvement in idle temperature, but the heat sink temperature was now in the 90s. What would happen when I went to stress the processor? Here are the results:
Attempt 1 Celeron A @ 464 with Peltier - CPUmark32

Temps

Room

CPU
Start

Sink
Start

CPU
End

Sink
End

464 @2.1 V

65.4°F

34°F

91.2°F

98.3°F

117°F
The temperatures for the first attempt were substantially higher than when using no TEC. So much for the first attempt.