Rain
"For keeping my 35 micron AMD K6-233 (O/C'd to 3X83) cool, I have found no program that works better." Those were my words after my initial testing of "Leading WinTech's" new program in May of 98. That system is now working harder than ever in my son's room and Rain still helps keep that processor from becoming a smoke emitting device.

Rain was the third of the CPU cooler programs to be introduced. Originally designated as tool for the serious overclocker, this is a cooler program with few frills. During the installation, you may set up Rain to optimize for a list of older processors - the most recent being the Pentium Pro and Celeron (the original version - pre Celeron A). As Rain version 1.0 was written before the Celeron A was brought out, Rain incorrectly identifies the Celeron A, Celeron II, and all Pentium III CPUs as a Pentium Pro. This does not hinder the effectiveness of the HLT instruction.

Remember that the HLT (halt) instruction only works when the processor is idle. Once the processor has been woken from the HLT instruction by some type of user input, Rain does nothing until the processor is idle again. While this is a good thing as Rain does not consume any of the CPUs cycles when it is active, it also means that Rain offers no benefits when the CPU is active. Issuing the HLT instruction will not take the place of having a good heat sink to keep your processor cool.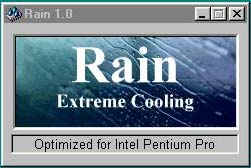 Rain 1.0 User Interface
This is one of those "must have" programs for the overclocker running Intel or pre K7 AMD processors on Windows 95, 98, and Me operating systems. This is THE program that the others are judged by.
Freeware
NOTES:
• If you are running an AMD K7 (Athlon), you can try this software, but the general consensus is that it doesn't do much.....
• If you are running Windows NT or 2000, don't bother with this software. Your O/S issues the HLT command already and you won't benefit from trying to issue it again.
September 2, 2001 Well, Tim and friends (Leading WinTech / YiHong Corp.) don't seem to be on the net any longer. I have tried without success to contact them. It seems that every link I find for Rain only seems to last for a couple months, so... I have put up both Rain 1.0 and 2.0 on this site's download page. http://www.benchtest.com/downloads/ Please don't link directly to the downloads or I'll have to remove them.
To see how the Cooler Programs compare with each other, check out the most Current Tests (pretty old.... ;) )
To see more tests with Rain, take a look at the Test Archives.