FullWay Heat Sink (pin type - no fan)
I was contacted by a gentleman from FullWay a few months ago, asking if I would be interested taking a look at his company's products. With the extremely slow mail from Taiwan, this heat sink did not arrive until a couple of weeks ago. The mail was not only slow, but rather heavy handed with this package and it arrived a little on the beat-up side. After straightening out some of the pins I was able to give this sink a try.

The concept behind the heat sink is to do away with the necessity of a fan while offering good CPU cooling properties. To achieve this, FullWay has assembled a heat sink with some very long, thin pins inset into rectangular holes in a flat alloy base. The pins fit fairly tight, however there is some air space between the pins and the base which results for less-than-perfect heat transfer between the base and pins.

In testing this heat sink without a fan, I received results that were very close to the Aavid single fan unit. It must be noted that this heat sink would have probably fared even better if my power supply fan was set to blow into the case, rather than to exhaust air out of it. With the fan blowing in, the air would be directed squarely on the heat sink.

If I understand correctly, FullWay also offers this heat sink with a fan, though this version was not available for my tests. To get an idea of how the heat sink would perform with a fan (or fans) attached, I directed the output of a Radio Shack (squirrel cage) blower at it. With the extra air circulation, this unit performed very well. A close second to my modified dual fan CPU Cooler unit. I would very much like to see this unit offered with dual 10 X 50 mm fans.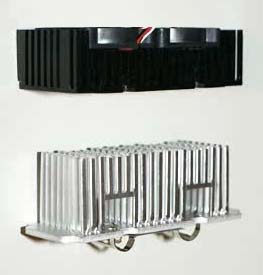 .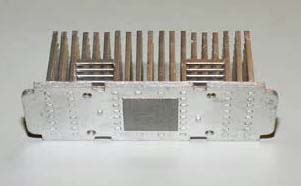 Left: The CPU Cooler (top) compared to the fin (pin) size of the FullWay.
Right: The rectangular holes the FullWay's pins attach into are visible.
The sink is designed to be used on both the PII and Celeron and is attached with a good quality spring clip. FullWay also offers a socket 7 size heat sink and motherboard chipset heat sinks.

FULLWAY NO-FAN HEAT SINK

| | | | | |
| --- | --- | --- | --- | --- |
| Unit Tested | Room Temp °F | Case Temp °F | Sink Temp °F | CPU Temp °F |
| Aavid Single Fan | 73.2 | 74.7 | 93.4 | 101.3 |
| FullWay No Fan | 73.0 | 74.8 | 95.7 | 102.7 |
| FullWay / Blower | 73.0 | 74.7 | 87.6 | 93.6 |
| CPU Cooler | 73.8 | 76.1 | 83.1 | 88.9 |
The test consisted of running Quake2 demo1.dm2 in a loop at 800X600 in a D3D wrapper for 30 minutes, 3 times with the results averaged.
Test was performed on the following system:
Celeron 300A o/c'd 4.5X103
Abit BH6
Hitachi PC100 SDRAM (64 MB)
Matrox Millennium G200 Video (8 MB SGRAM)
DCS S805 A3D Sound Card
Quantum Fireball SE 3.2
Quantum Fireball ST 3.2
Matshita CR-574 CD ROM
D-Link DE-528 Ethernet Card
Hayes 5675 56K v.90 / Flex Modem
Inwin A500 Case w/ cooling modifications
Win95 OSR2