AmnHLT 1.0
In late November, I received an email from a reader, Nikolay, informing me that he had come across a new CPU cooler program which had been make the rounds in Russia. While I still have not been able to have the entire text of the read me and instructions translated, Heywood and a friend have been kind enough to supply me with a translation of the interface.

The program is reminiscent of the early versions of CPUIdle Load Only on a diet, consuming only 609 bytes of memory for the static device driver. With the _HLT monitor installed, the memory use jumps to 1.59 megabytes.

Also reminiscent of CPUIdle load only, it uses a VxD which isn't that effective in keeping the processor cool during file transfers. Otherwise, the program does a nice job in keeping the processor cool during idle periods. In the couple of weeks I have run the program, I have no problems or conflicts that I could attribute to the program.

The program's creator, Max Avilov, has a good start on a cooler program to give us yet another choice in a means of keeping our processors cool.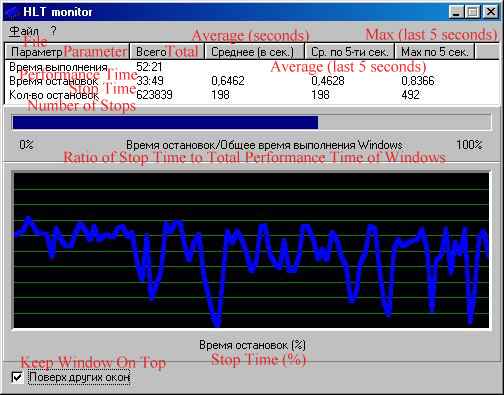 AmnHLT interface (Translated)
NOTE: The original site is gone. These are the only links I know of for AnmHLT.

Visit AmnHLT's website. Download AmnHLT. Download AmnHLT Interface.
Compare the test results of AmnHLT in the Current Tests.