Vantech CPU Cooler Dual Fan (PII)
On a difficulty scale of 1 to 10, adapting this heat sink to my Celeron rates a 3. This, of course, assumes that you happen to have a well stocked metal-working workshop and enjoy doing such things and that rating a 10 involves casting and machining your own heat sink from scratch. By no means was it the most difficult project that I've tackled in a while, but having some tools does help.
The CPU Cooler is a big heat sink with the width of the heat sink's base measuring about a half inch more than a Celeron heat sink. This is where the mounting problems began. Mounting the sink involved relieving the base of the heat sink so that it would not interfere with the motherboard's S.E.P.P. slot. Once this was accomplished, it was necessary to drill holes and tap threads so that Allen type screws could be used to sandwich the S.E.P.P. between the Aavid and CPU Cooler heat sinks.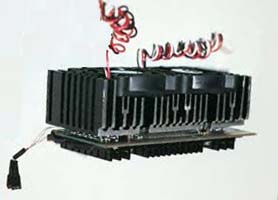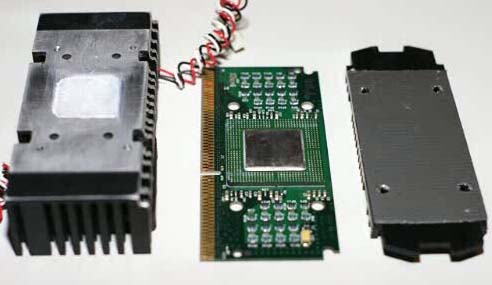 Upper: CPU Cooler heat sink mounted in the sandwich.
The extra plug belongs to the thermometer's temp sensor.
Lower: The sandwich components.
As for the heat sink itself, it is as nice as any I have seen, with neatly machined fins and a fairly flat base. The mounting hardware for attaching it to a PII was a first rate "clamping style" band arraingement rather than the less expensive to produce "spring clips." Unfortunately the mounting hardware could not be easily adapted to the Celeron. The sink came with two 10 X 50 mm ball bearing fans sporting the CPU Cooler name. The fans are the three wire type with RPM sensing.
The heat sink, or should I say a similar model is manufactured by Vantech, with the model # 4535H.

CPU COOLER DUAL FAN HEAT SINK

| | | | | |
| --- | --- | --- | --- | --- |
| Unit Tested | Room Temp °F | Case Temp °F | Sink Temp °F | CPU Temp °F |
| Aavid Single Fan | 73.2 | 74.7 | 93.4 | 101.3 |
| FullWay No Fan | 73.0 | 74.8 | 95.7 | 102.7 |
| FullWay / Blower | 73.0 | 74.7 | 87.6 | 93.6 |
| CPU Cooler | 73.8 | 76.1 | 83.1 | 88.9 |
The test consisted of running Quake2 demo1.dm2 in a loop at 800X600 in a D3D wrapper for 30 minutes, 3 times with the results averaged.
Test was performed on the following system:
Celeron 300A o/c'd 4.5X103
Abit BH6
Hitachi PC100 SDRAM (64 MB)
Matrox Millennium G200 Video (8 MB SGRAM)
DCS S805 A3D Sound Card
Quantum Fireball SE 3.2
Quantum Fireball ST 3.2
Matshita CR-574 CD ROM
D-Link DE-528 Ethernet Card
Hayes 5675 56K v.90 / Flex Modem
Inwin A500 Case w/ cooling modifications
Win95 OSR2