AAVID SINGLE FAN
The Aavid single fan, short finned heat sink is the standard fare sold by many retailers with the Celeron in order to receive a warranty with your new processor. The heat sink came with a Thermal Technologies 10 mm (thick) by 50 mm square ball bearing fan. While this heat sink will suffice for the non overclocked processor in a decently vented case, it falls far short of the performance needed for the overclocked processor. On the plus side, it is a well manufactured unit that attaches easily with a quality clip. The fan is also moderately quiet at its 4300 RPM blade speed as tested on my system.

The heat sink (without fan) makes a great back plate for those wishing to mount a PII style heat sink to the slug.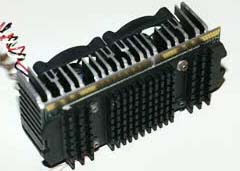 The Aavid heat sink is shown without a fan and used as a backing plate for
the so-called Celery Sandwich. Notice the great difference in the size of the
heat sink fins between the Aavid and the CPU Cooler models.
AAVID SINGLE FAN HEAT SINK

| | | | | |
| --- | --- | --- | --- | --- |
| Unit Tested | Room Temp °F | Case Temp °F | Sink Temp °F | CPU Temp °F |
| Aavid Single Fan | 73.2 | 74.7 | 93.4 | 101.3 |
| FullWay No Fan | 73.0 | 74.8 | 95.7 | 102.7 |
| FullWay / Blower | 73.0 | 74.7 | 87.6 | 93.6 |
| CPU Cooler | 73.8 | 76.1 | 83.1 | 88.9 |
Test was performed on the following system:
Celeron 300A o/c'd 4.5X103
Abit BH6
Hitachi PC100 SDRAM (64 MB)
Matrox Millennium G200 Video (8 MB SGRAM)
DCS S805 A3D Sound Card
Quantum Fireball SE 3.2
Quantum Fireball ST 3.2
Matshita CR-574 CD ROM
D-Link DE-528 Ethernet Card
Hayes 5675 56K v.90 / Flex Modem
Inwin A500 Case w/ cooling modifications
Win95 OSR2