I purchased a 1972 Deere 301 utility tractor/loader to help out with some landscaping chores at the new home. When I got it, the front frame was about ready to break loose from the tractor. I ended up splitting the tractor to repair it. Having a loader should make moving dirt around a little more fun.

The last installment of the tiller rebuild is up. After many hours of work, I finally get a chance to till some soil.

I've got the third page up on rebuilding the John Deere #33 tiller. All that's left to do is take some measurements, then design and fabricate a PTO to power it.

I've got the second page up on rebuilding the John Deere #33 tiller.

I've been working on the new home, so not a lot of shop time lately. However, we've decided that we want a bigger garden next year. This means that I get a new toy. I bought a Deere 33 tiller and am in the process of rebuilding it. The story is here.

Happy New Year. After months of planning and a lot of work, the last piece of equipment has been moved into the new workshop. More pictures of moving have been posted.

After the short sale from hell we finally bought our new home in late September. Since then we've been doing some work fixing up the place and I've been trying to move the past two decades worth of tools I've accumulated. Some pictures of the moving have been posted.

Closing on the new home should be next week. 4+ months after we made the offer. Short sales are lots of fun. In the mean time, I put together a new bench for the South Bend 405 and scrape in a model B saddle.

Still waiting on whether the bank has accepted our offer. In the mean time I've put together a sleeve hitch, hitch lift rod and a one bottom plow for the garden tractor. Story is here.

Summer is here. After 7 months of looking, we've put in an offer on a home and are enduring the slow process of trying to buy a short sale. We have a contract with the seller, but not yet with the seller's bank. If you want a quick transaction, avoid short sale homes. However, if it turns out that we get the place, the hassle will have been worth it and we'll finally have a bit of wooded acreage, a spacious home and a nice sized detached shop.

Between house hunting and researching the short sale process, I've managed to spend a little time in the shop and garage. Here's a link to the latest quick project. I put some Hummer H2 rims and tires on my Dodge Ram 2500.

I've spent the first part of the winter doing some work on my new to me John Deere 317 lawn and garden tractor. It now sports power steering adapted from a Deere 318 and 345. Here's the story.

To fix some ongoing issues with my former hosting company, I've had to move to a new one. If you're seeing this note, the new hosting provider has me up and running. Happy New Year!

In the second installment, I finish scraping the mill. It turned out to be a lot more work than I had envisioned, but the good news is that it's done and the mill is a great deal more accurate. The second part of the adventure may be read here.

After talking about trying to improve the accuracy of my Grizzly G3103 mill for 4 plus years, I have finally begun the project. In addition to the issues I'd thought I'd see, I've come across some that I didn't expect. The first installment is here. More fun than a barrel of monkeys.

The workshop has been invaded by kittens! If you're in the Northern Virginia or Washington DC metro area and you're looking for a kitten, we have a litter that arrived as a suprise. We really need to find homes for these little fur balls. Please take a look, or better yet, take a kitten.

I finally got around to doing some repairs on the Shumatech DRO-350. I also add a pair of glass scales to the mill.

The final installment of the Surface grinder rebuild. I finish up by overhauling the spindle.

I finish scraping, Magnetic chuck repairs, coolant system and spindle troubles The latest updates may be found here and here.

More scraping, more lapping, and getting ready to build a copy of a lathe alignment tool. The latest update may be found here.

Still scraping, but I also do a little lapping on my granite straight edge. Also, using the Automatic Generation of Gages to prove flatness. This installment may be found here.

I've spent most of my free time in the last month working in the garage with a scraper in my hand.I've made some progress on the surface grinder, but I also made a mistake. You can read about it here.

After spending the last year reading about machine repair and scraping and doing LOTS of scraping, I have finally gotten to the point that I am going to attempt a large scraping project. The project is a 1967 DoAll D624-8 surface grinder.The first installment may be found here.

It has been a while since I updated anything here, but there seems to be a lot of email asking questions on how I like the Grizzly Mill after a year of having it. So I came out of hiding long enough to do a small piece on the mill. You can find it here.

Before I take a bit of a break from the workshop to do some spring clean-up on our home, I buy an old South Bend lathe and give it some TLC. A new tool is always fun.

I finish up the Shumatech DRO with the addition of a Jenix scale and adding some ball bearings to one of the calipers. You can take a look here.

I've been busy in the workshop adding a digital readout to the mill. I've finished the first stage of the project and am quite pleased with the results. ShumaTech Dro-350 Digital Readout

I found another little annoyance with the mill. This one got a temporary fix that is working out well, for the time being. Spindle Noises

There's a new piece on moving the mill into the workshop.

There's an update in the Workshop section.


My wife Susie has been volunteering at a local organization that finds homes for homeless animals. I had the opportunity to tag along last weekend. I must say that I was impressed with FOHA. They are located near the border of Prince William county, in Loudon county, and serve the Northern Virginia and metropolitan Washington DC area. They have been helping animals find good homes for decades and currently have about180 dogs and cats in residence. The kennels, complete with runs, for the dogs and cottages for the cats are all air conditioned! The cottage for the FIV positive cats even has a comfy couch so yours truly could kick back and spend some time getting to know all the residents.

Susie had told me that she had fallen in love with a bunch of the cats and wanted to adopt at least one of them. We currently have one cat and he's not used to sharing his home, so we decided that we would become a"foster family" for one of the cats and see how our cat Petey handled some company. We chose a cat named Nubby who has a little problem with one of his hind legs as we thought that he wouldn't stand as good of a chance in finding a home as the others. He's a great little guy with a super personality. Petey is feeling a bit threatened by his new roommate, but he's getting a little more comfortable as the days go by.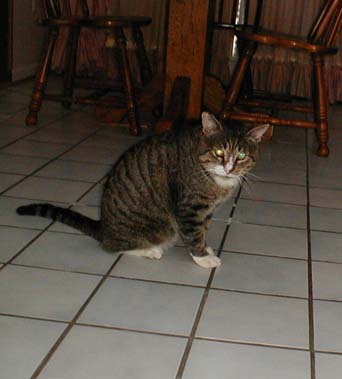 Click to Enlarge
So why am I telling you this? The answer is that FOHA has been helping with the rescue and boarding of some of the animals displaced by the flooding in the aftermath of Hurricane Katrina and they have more animals than usual to find homes for. FOHA really needs good homes for their dogs and cats.
If an animal is unlucky enough to be homeless,but lucky enough to wind up at FOHA, they are very well taken care of. All of the dogs and cats receive a visit with a veterinarian to get their shots and get checked over for health issues. The volunteers make sure that all the cats get plenty of petting and brushing and the dogs get walked through the beautiful wooded countryside around FOHA (they have many acres) and get washed, groomed and played with as much as possible.
If you reside in the Washington DC metro area and have been thinking about getting a dog, cat, or kitten, I recommend FOHA highly. Please visit their website at http://www.foha.org/ or give them a call for general information at 703-385-0224 or shoot them an email at info@foha.org Their website even has pictures and a "BIO" on each of the animals.

Thanks if you can help out.

~ Jim

P.S. If you are near Sterling, Virginia on Sunday September 18th...

Friends of Homeless Animals presents our 3rd Annual Barktoberfest
Music and Pet Adoption Festival
This event is for the entire family.Bring your blankets and lawn chairs for a day of the area's finest music on two stages, games, delicious food, and an opportunity to meet FOHA animals up for adoption.
Six Live Bands
Games and Kids' Activities
Dog and Cat Adoption Booth
Silent Auction

Admission: FREE
(Donations gladly accepted to benefit FOHA)
When: 12 noon to 6pm Sunday September18, 2005
Rain date: Sunday September25, 2005
Where: Melodee Music – Outdoor Amphitheater
46077 Lake Center Plaza
Sterling, VA 20165
(More info on FOHA site.)


Geez it's been a long time since I have posted. A lot of stuff has been going on and I am still doing projects.It is just that the subject of the projects has changed. The latest projects involve a security camera for the house. I have been wanting to do this for a long time and finally got started on it a year ago August. There was a lot to learn, especially with the electronics side of it. I spent a few months playing with preamplifier circuits and trying to become somewhat proficient with circuit design software. I ended up with a pretty nice little preamp for my old sound card to up the clarity a bit. Some time in the future I will be incorporating the preamp/sound card setup to help control my latest project, a tilt-pan camera mount for my infrared assisted security camera. You can take a look at the first tilt-pan mount and the preamp here.

At this point, I am about to start on the third prototype of the tilt/pan device. This one should be a fun project as I have finally broken down and purchased a milling machine. I have been wanting a mill for ages, so this is really a neat thing.

I have cleaned up the site a bit and hope to start documenting a few of the projects I have planned for the coming months. On top of building another tilt and pan mount, I will be doing some modifications to the new mill. I also want to build a computer controlled circuit board cutting and drilling device using the leftover stepper motors from the first tilt and pan mount. The second tilt-pan mount was moved with servos, as will be the third, so I have these extra stepper motors and a controller... well, you know how that works... I can't just let them sit and collect dust.

Well, the mill is supposed to arrive tomorrow and I'll try to document the delivery and the subsequent move of this beast into the basement workshop. That ought to be worth a laugh or two. This thing is heavy!

That's all for now. Stay tuned for more to come.