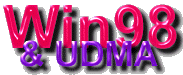 Win98 UDMA
Before Win98 was publicly released, there was, as usual, some debate on whether 98 supported UDMA natively. Using HD Tach, I received burst transfer rates of around 20 MB per second with MS's native driver and the DMA checkbox enabled. This is equal to Win95 OSR2 with patches installed and UDMA enabled. This would seem to indicate that, for whatever UDMA is ultimately worth, it is being enabled. Definitely not the theoretical 33 MB per second that is so widely advertised, but better than the 12 MB per second without the DMA check boxes enabled.
Choice of Drivers?
Over the past couple of months, a few drivers are beginning to surface for Win98. Up to this point, the general concensus has been that Microsoft's driver does the job adequately, with most users able to use UDMA without too much trouble. The main problem has been installing the upgrade version of 98 over a copy of Win95 with non-Microsoft drivers installed. Intel's BMIDE driver - version 3.02 seems to work well in getting of older versions of Intel drivers, but there are still problems getting rid of other manufacturer's driver programs (Triones comes to mind).
I have picked up a couple of drivers that I will be testing over the next few weeks. First up will be the XStore Pro drivers. I have the usual good and bad about these and would like to find out for myself.
Microsoft Drivers
This is the way all installations should be. Install the operating system, enable the DMA checkbox in the Control Panel \ System \ device manager \ disk drives \ your generic hard disk \ properties screen. Reboot. You're done. It couldn't be much easier.
One gripe is that my Quantum Fireballs are still listed as generic drives (same as OSR2) with this version of Win98's setup files. I guess that's not too much to complain about, but it still bugs me. On the plus side, there is no need for patches to remove the pesky yellow question marks from the "other devices" entry in the device manager as in OSR2. Support for the PCI bridge and USB are included in the OS.
Removing Intel Drivers
There is a new driver file from Intel that solves a problem that some users have encountered while upgrading from Win95 to Win98. It would seem that if you install the upgrade version of Win98 over Win95 while the Intel BMIDE driver is installed, the only way to remove the Intel driver is to uninstall Win98 and then remove the BM-IDE driver with the uninstall utility or through the registry.
You are then able to re-install the Win98 upgrade and take advantage of the Microsoft driver. This is a rather lengthy process and not really my idea of a good time. The new Intel "bmide_95.exe" file solves this problem. (While the file is named the same as previous versions, it is in fact version 3.02.) With the installer utility contained in the EXE file, the BM-IDE driver may now be removed directly from Win98.
The following is an excerpt from the Intel Bus Master page.
"The Intel BM-IDE driver was not designed for use under Windows
98. No PC manufacturers shipping Windows 98-based systems
today include the Intel BM-IDE driver. The installer program for
the Intel BM-IDE driver for Windows 95 precludes installation on
a Windows 98-based system. Furthermore, a problem may occur
when installing the Windows 98 Upgrade onto a system
containing Windows 95 and the Intel BM-IDE driver. The new
v3.02 installer may be used to replace the Intel driver with the
Microsoft BM-IDE driver on Windows 98 systems. See the v3.02
README.TXT file for further instructions."
For more information and to download the BM-IDE driver file, follow this link to the Intel Chip Sets page.
Test System
Abit AX5 Motherboard Ver. 2.22, 512 K L2 Cache
AMD K6 233 o/c'd to 250 (83x3)
32 MB SDRAM (generic)
Quantum Fireball SE 3.2 GB (FAT 16)
Quantum Fireball ST 3.2 GB (FAT 16)
Matsushita CR-574 CD-ROM
Software installed on tested OS
Win98 Version 1713
CPUIdle 2.52
Adaptec Threadmark 2.0
HD Tach 2.00
Ziff-Davis WinBench98 v 1.0
Benchmarks
A "typical" installation of Windows 98 was used. Programs that were not needed for the benchmark were not allowed to run. Each benchmark was run three times and the results were averaged. Virtual memory of 0 to 150 MB on the same HD as the OS was used. Primary and logical drives used were defragged between each benchmark. The system was rebooted between each benchmark.
Windows 98
Test
Win98 UDMA
Disabled
Win98 UDMA Enabled
WinBench 98 v 1.0
.
.
CPUmark 32
640
640
FPU
815
816
Business Disk 98
1210
1230
High-End Disk 98
3250
3330
CPU Utilization
70.4%
8.21%
Avg Seek (ms)
11.7
11.7
Transfer - Beginning
9690 KB per sec
9710 KB per sec
Transfer - End
9520 KB per sec
9210 KB per sec
Win98 Build
1713
1713
.
.
.
Threadmark 2.0
5.47 MB per sec @
61.04% Utilization
6.46 MB per sec @
29.77% Utilization
.
.
.
HD Tach 2.00
.
.
Transfer Rates
Max - Min - Avg
In KB per sec
10964 - 6548 - 9499
11072 - 6548 - 9563
Avg Seek -
Peak Transfer Rate
15.4 ms
12.4 MB per sec
15.5 ms
21.1 MB per sec
Compare with Win95
Compare with WinNT
Timed File Transfer
The last test was to test the speed in transfering files between the two hard drives in a real-world application. For this test, I assembled a folder containing 500 MB of various file types including, but not limited to, ZIP, JPEG, GIF, DOC, and TXT. I timed the transfer between two 1000 MB partitions.
The folder was moved from drive 0 to drive 1 and back again. This process was repeated three times for each configuration with the results being averaged. I also included a test of Win95 with setupex.exe and remideup.exe installed and the best times for WinNT 4.0 for comparison.
Timed File Transfer
Driver used
Time to transfer
MB per second
Win98 No DMA
135 seconds
3.70 MB per second
Win98 DMA On
124 seconds
4.03 MB per second
NT 4.0 with
Tyan 4021 Driver
118 seconds
4.24 MB per second
Win95 MS UDMA
122 seconds
4.10 MB per second
In the benchmarks run, WinNT 4.0 has an advantage in producing faster data transfer on my system. This advantage seems to be somewhat lessened by the lower CPUmark-32 results that NT achieved. If I were to judge the operating systems by "seat-of-the-pants" feel, Win95 feels the fastest by a large margine in everyday tasks. After all, speed is subjective and one does not live by benchmarks alone.