Intel 3.01 BMIDE drivers
The Intel BMIDE drivers are the default drivers included in many motherboard manufacturer's installation CDs for boards using Intel chipsets. The easiest way to tell if you are using the intel drivers is that the primary and secondary HD Controllers listed under Win95's device manager are listed as "BM IDE" or "Bus Master IDE" as opposed to just "IDE - single (or dual) FIFO" as with the MS drivers. Another quick check is that the hard disks are listed by their manufacturer rather than as "generic type XX" as with the Microsoft driver. Still another way to check for the presence of the Intel drivers is the lack of a DMA check box in the settings tab of the "disk drives" properties in the device manager. Depending of which motherboard manufacturer you acquire these drivers from, the driver's file name may change. Some manufacturers, most notably Tyan, have improved the basic Intel driver before packaging it with their installation software.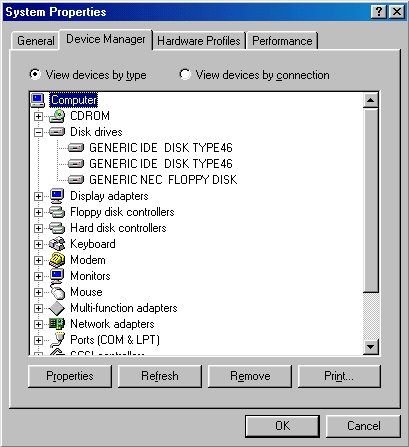 The default Microsoft drivers show up in the Device Manager as "generic disk," Intel's show up as a brand name drive.
The original Intel driver I tested was designated 3.01 and was designed to be used with Win95 OSR2 and later versions (versions 950b and 950c). The date of the piix.z file is 6-20-97. This version should not be used with the original versions of Win95 or Win95A (versions 950 and 950a). The newer Intel BMIDE 3.02 driver is a much better choice for these OS's.
The Intel 3.01 driver seems to suffer from higher CPU utilization and poorer multi-tasking abilities, and in my opinion, is a less desirable choice than the native OSR2 driver. And with that remark, I am somewhat dissapointed that Abit continues to package this driver with their motherboard installation CDs as recently as with the BH6 motherboard (Abit's CD Rev. BX-1.40 is the most recent version I have seen).
Installation of the driver is straight forward and I have heard of very few problems with installation. Unfortunately, removing the drivers is often more difficult, with a trip through the registry or reinstallation of OSR2 often necessary to remove all changes made by the driver installation.
Note: The Intel BMIDE driver is found on the disk included with the Abit based motherboards or from Intel as BMIDE_95.EXE.
The tests were performed on a clean installation of Win95 OSR2 as in all of my driver tests. The system was rebooted after each file's installation and before each benchmark. The HD was also defragged before each benchmark was run.
The test results for the default installation of OSR2 with DMA enabled is shown in Chart 1.
Chart 3 - AMD K6 250 MHz. (83 X 3) Intel BMIDE 3.01 (Abit BMIDE_95)
Device
USBSUPP
USBSUPP +
Intel BMIDE Driver
USBSUPP +
Intel BMIDE +
PCI_TX
Disk Drives
Generic type 46
Check DMA box avail.
Quantum Fireball
No DMA box avail.
Quantum Fireball
No DMA box avail.
HD Controller
PRI IDE single fifo
PRI BM IDE
PRI BM IDE
HD Controller
SEC IDE single fifo
SEC BM IDE
SEC BM IDE
HD Controller
Std IDE controller
82371AB PCI BM
IDE controller
82371AB PCI BM
IDE controller
?Other
? PCI bridge
? PCI bridge
? Removed
?Other
? PCI USB
? PCI USB
? Removed
System Devices
DMA controller
Check 64 KB & 4 GB
DMA controller
Check 64 KB & 4 GB
DMA controller
Check 64 KB & 4 GB
System Devices
PCI Std Host Bridge
82439TX Pentium Processor to PCI Bridge
82439TX Pentium Processor to PCI Bridge
System Devices
PCI Std ISA Bridge
PCI Std ISA Bridge
82371AB PCI - ISA
USB
.
.
PCI USB universal
host controller and
Root Hub
.
.
.
.
Test
USBSUPP
USBSUPP +
Intel BMIDE Driver
USBSUPP +
Intel BMIDE +
PCI_TX
WinBench 98 v 1.0
.
.
.
CPUmark 32
646
646
646
FPU
818
818
817
Business Disk 98
1240
1200
1180
High-End Disk 98
3490
3410
3400
CPU Utilization
8.34%
44.7%
45.3%
Avg Seek (ms)
14.5
14.5
14.3
Transfer - Beginning
11200 KB per sec
10900 KB per sec
10800 KB per sec
Transfer - End
9520 KB per sec
9070 KB per sec
9290 KB per sec
Win95 Build
1212
1212
1212
.
.
.
.
Threadmark 2.0
5.77 MB per sec @ 27.84% Utilization
4.57 MB per sec @
34.38% Utilization
4.93 MB per sec @
33.41% Utilization
.
.
.
.
HD Tach 2.00
.
.
.
Transfer Rates
Max - Min - Avg
In KB per sec
11071 - 6544 - 9562
11068 - 6546 - 9561
11076 - 6551 - 9564
Avg Seek -
Peak Transfer Rate
15.5 ms
21.1 MB per sec
15.6 ms
20.7 MB per sec
15.2 ms
20.9 MB per sec
Next - Tyan 3.10 BM Drivers