Finally stable at 504
With the second prototype finished, I put the system back together and fired it up at 464 and 2.1 volts. This time the temperature of the processor rose at a much slower rate and was only a few degrees above the case temperature by the time I finally entered Windows. My system boots pretty slowly because of the SCSI card going through its address checks.

Once Rain kicked in, the processor temperature dropped quickly, though not as quickly as in the first attempt. This is due to the "cold plate" having heated up during the boot process and the peltier needing time to remove the heat from both the plate and the processor. After some full WinBench99 suites and a few Quake2 timedemos and I was convinced that it was time to try for 504 again.

At 504 and 2.6 volts, I finally was able to run back to back WinBench suites after running a few timedemos without a lock-up. I backed the voltage down to 2.5 and much to my surprise, it was still not locking up. I think that this was the point when I started to get a little excited! It finally looked like I might be able to run this Celeron at 504.

Attempt 3
I had noticed that the peak temperature of the processor was still a little higher than I was comfortable with. I began to go back over the design and realized that I had left out one important component in my heat sink prototype. There was no insulation between the hot heat sink and the cold plate. Heat from the sink was being radiated back to the cold plate. I had read about this at Tellurex's site and it had slipped my mind. Out came the peltier sandwich again. I decided on using closed-cell foam insulation and after testing a couple of samples to see how high of temperatures they could handle, I settled on cutting up a foam tray that meat from the grocery store comes packed on. I'm sure that some searching would have produced something a little more esoteric, but this stuff insulates well and survived at temperatures over 150°F without any signs of deforming or melting.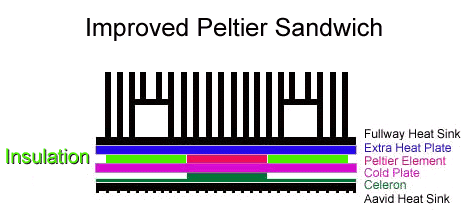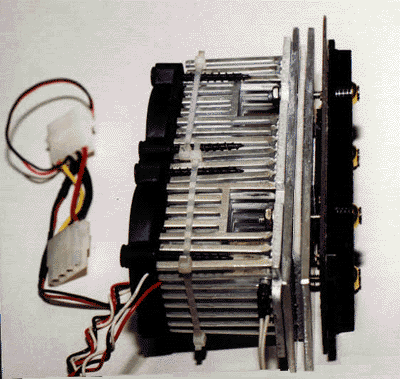 The insulation is a little dificult to pick out, but it's there.