Benchtest.Com - Water Cooler 7 - page 2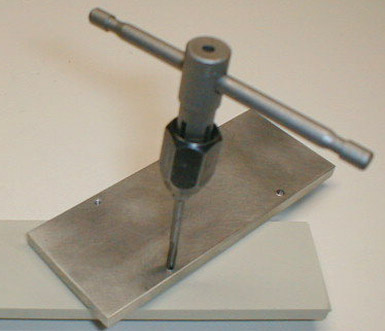 The four holes in the cold plate are tapped to 8-32. Make sure that you oil the tap and back it out a half turn for every full turn in. This breaks the tap loose so it does not get bound up. Breaking a hardened steel tap in aluminum is not good. If you manage to get the broken piece out, you will often do damage to the aluminum.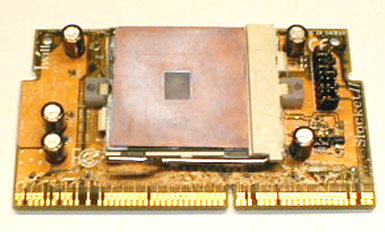 The shim for the PIII is in place. The story of the quest for the best shim is a bit involved. A soon as I get some more copper sheet, I hope to finish up testing and if it turns out interesting, I'll write it up. This shim is a bit undersized at .0315". This wafer sticks up .033 from the base and about .032 from the Pentium decal. The one thousandth of an inch difference in height is more than it may seem. It can make the difference between the cold plate contacting the whole processor or just part of it.

The Nylon blocks for the hold-down are "hand whittled." Not the prettiest, but they work great!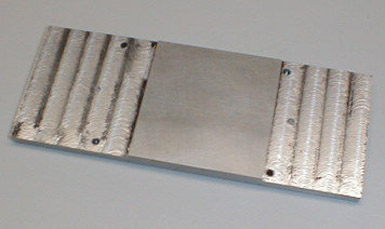 With my drill press-turned-mill, I removed some stock from the bottom of the cold plate. Because I wanted the "pedestal" on the cold plate to be on the thin side, more work would be needed to get the proper clearance.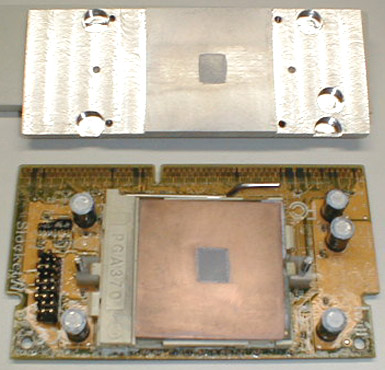 As I said, a bit more work was needed. The Iwill Slotket II and its tall capacitors didn't have this project in mind. As you can see (barely) by the heat sink compound marks in the bottom of the holes, the holes needed to go a bit deeper before the cold plate would fit.